Harley-Davidson Motorcycle Maintenance Schedule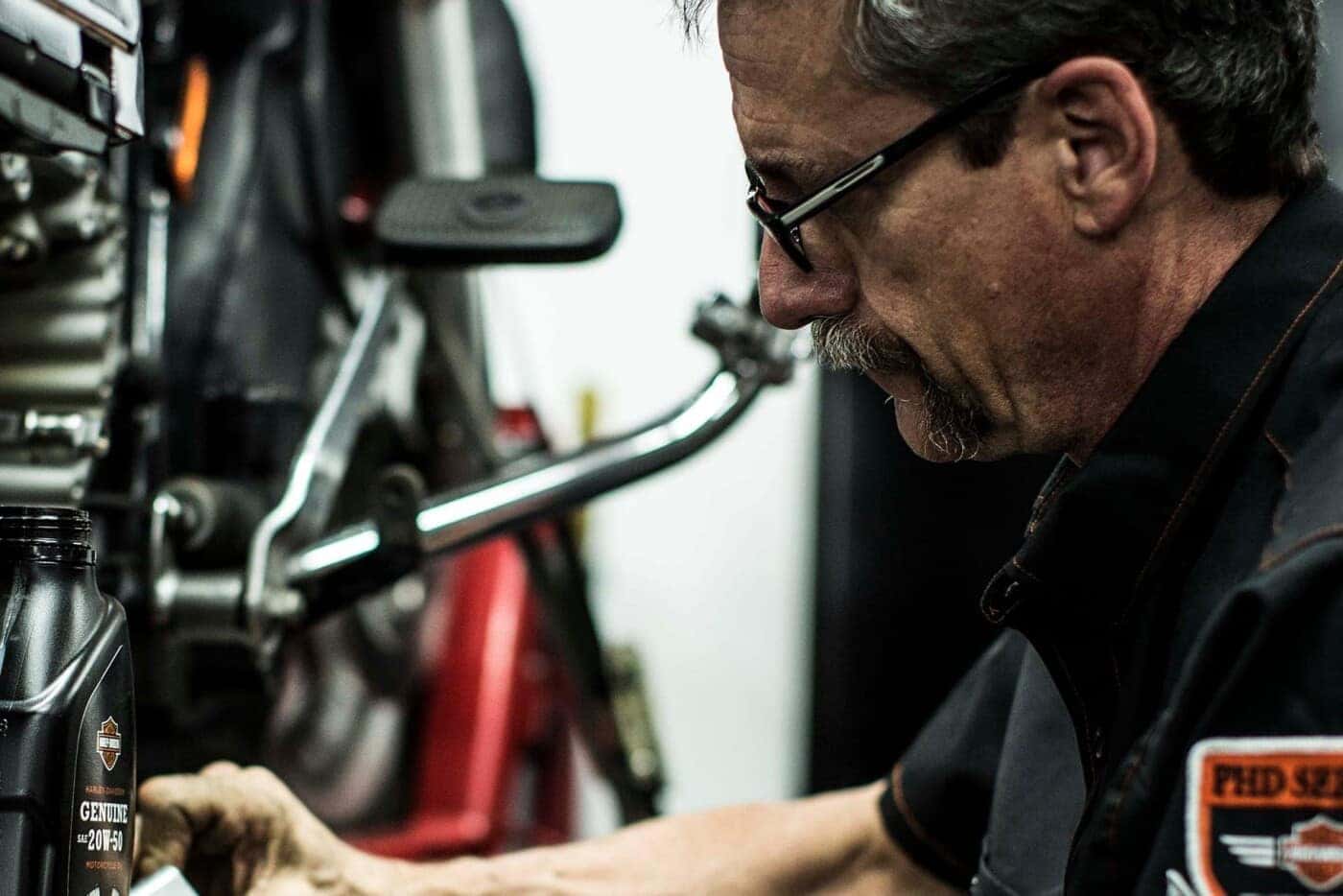 If you're a first-time buyer, motorcycle maintenance may seem overwhelming. Fortunately, your bike comes with a Harley-Davidson maintenance schedule that's designed to keep your bike at peak performance and catch problems while they're small and easy to fix. All you need to do is schedule service based on certain mileage intervals. Here's what Harley-Davidson technicians at the Killer Creek Harley-Davidson service center will look for at each service visit:
Harley-Davidson Maintenance Schedule: 1,000 Miles
Your scheduled Harley-Davidson maintenance begins when your odometer reaches 1,000 miles. At this inspection, certified Harley-Davidson technicians will check your bike carefully to ensure that every part is performing to factory standards. They'll also put your bike through its paces at top speeds so you can ride with confidence in Atlanta. Inspections and services include:
Check clutch adjustment
Check/adjust the primary chain
Inspect brake pads and discs for wear
Inspect fuel valve, lines, and fittings for leaks
Check brake fluid reservoir levels and condition
Inspect exhaust system for leaks, cracks, and loose or missing fasteners or heat shields
Check the tightness of all critical fasteners: hand controls, brake system, axle nuts, front fork components, riser, and handlebars
Harley-Davidson Maintenance Schedule: 2,500 Miles
At the 2,500-mile marker, technicians focus on parts that wear out a little later, like the tire treads on your Harley-Davidson. Maintenance involves minor adjustments if any of the following checks reveal unusual wear and tear:
Inspect transmission lubricant
Inspect brake pads and discs for wear
Inspect tire pressure and inspect the tread
Inspect oil lines and brake system for leaks
Inspect fuel valve, lines, and fittings for leaks
Inspect operation of throttle and enrichener controls
Inspect operation of all electrical equipment and switches
Harley-Davidson Maintenance Schedule: 5,000 Miles
Your motorcycle maintenance schedule includes service at 5,000 miles that combines key checks from the previous two service intervals, while adding new inspections of your bike's electrical systems:
Inspect spark plugs
Check wheel spoke tightness
Check front fork bearing adjustment
Check and clean battery connections
Check tire pressure and inspect the tread
Check ignition timing (XL only) and vacuum hose
Check operation of all electrical equipment and switches
Harley-Davidson Maintenance Schedule: 7,500 Miles
Following your motorcycle maintenance schedule will bring you back to your Conyers area dealership for service at 7,500. This inspection is identical to the one you had at 2,500 miles. If you want to try inspections for yourself, this could be a great time to learn some DIY skills! Contact us for more info about Harley-Davidson maintenance at home.
Harley-Davidson Maintenance Schedule: 10,000 Miles
At the 10,000-mile mark, your motorcycle maintenance schedule focuses on tightening loose parts, alignment adjustments, and lubrication of key pivot points like steering head bearings:
Check and adjust the belt
Lube the speedometer cable
Change transmission lubricant
Check stabilizer links and engine mounts
Lubricate and adjust steering head bearings
Check and adjust the operation of enrichener
DIY Motorcycle Maintenance: Tips and Tricks
Even if you're not inclined to perform service checks yourself, it's always a great idea to get familiar with the anatomy of your Harley-Davidson. Simple maintenance at home in Cartersville can help keep your bike in top shape between scheduled Harley-Davidson maintenance visits:
Clean the battery terminals and coat with dielectric grease to prevent corrosion.
Examine pivot points and moving parts for signs of wear or interference.
Use a multimeter to check the standing voltage at each battery terminal.
Check for failed fork seals and dripping fluid under the bike.
Check for blown fuses and ensure that spares are present.
Looking to sell your bike? A well-maintained motorcycle with high mileage might be a better sell than a low-mileage bike that wasn't maintained well.
Rely on Killer Creek Harley-Davidson for Expert Harley-Davidson Maintenance and Service
Looking for Harley-Davidson parts for your DIY motorcycle maintenance? Killer Creek Harley-Davidson is committed to keeping your bike in peak condition for your Roswell rides. Browse and order OEM parts and accessories online, and save on all your regular service with our service coupons!