Miss Killer Creek H-D Bikini Contest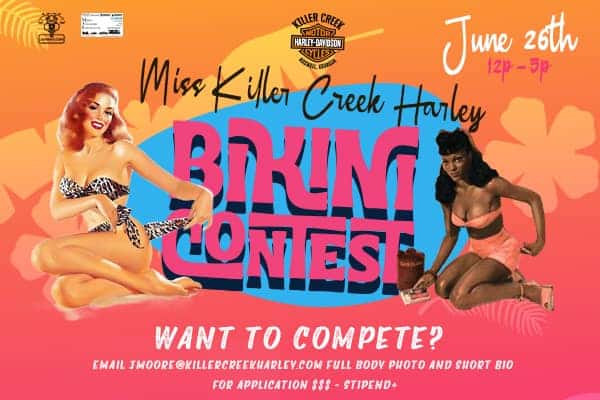 Killer Creek Harley-Davidson and Lawbike are throwing another Bikini Contest!
Join us Sunday, June 26th to get your toes wet…Killer Creek H-D Bikini Beach Party.
Beautiful ladies will compete for the title of Miss Killer Creek Harley-Davidson® during this professional Bikini Competition. We're lighting the grills and chilling the beer, Check out our new and preowned bikes as well as our vendor row for cool lifestyle products. Register for door prizes to wins cool Harley-Davidson stuff. This event is free to attend! Stay tuned for more details!!
BONUS: Girls (or guys!) who wear a bikini top to this event get a FREE BEER ticket!*
A big shout-out and thank you to our sponsor, Lawbike for making these awesome parties come to life.
Would you like to compete? We're looking for 10 beautiful ladies!! Email [email protected] a photo and short bio for a chance to win $500 | $300 | $100 and a stipend available for contestants
Are you a vendor who would like to be a part of our events? Reach out to Jasmin @ [email protected]! We are always looking for fresh vendors and new talent.